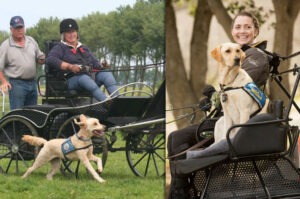 Here are the results of the Carriage Dog Photo Contest that ADS recently held on their facebook site – both Diane with her GoldenDoodle and Stef with her Yellow Lab finished in the top 10 out of 65 entries.  I think it is a testimony to the broad marketing appeal and publicity that our disabled drivers can offer.   Actually 4 of the the top 10 winning photos were of our disabled drivers!!!  Stefanie and Kaz had 791 votes for first.  The next closest were two other photos of Stef.  The next closest number of votes in fourth was 243 votes
Read the wonderful comments on both Diane's and Stefanie's photos (there were many more but some have dropped off with the Facebook date filter)!!!  Click on the actual photo and then click on "View more comments" at the bottom on the right.
They all will be featured in the Whip Magazine in May.
https://www.facebook.com/AmericanDrivingSociety/posts/889479084427693
https://www.facebook.com/media/set/?set=a.889473974428204.1073741832.173719366003672&type=1
The album containing the other 55 photos that were entered but not in the top 10 can be found at:
https://www.facebook.com/media/set/?set=a.875047685870833.1073741830.173719366003672&type=3