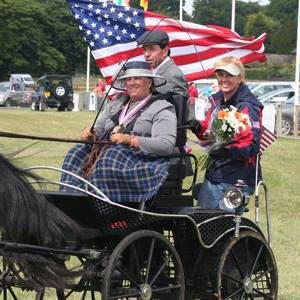 Congratulations to our VIP Driver, Diane Kastama of Arroyo Grande, CA, who recently won the Becky Grand Hart Trophy from the United States Equestrian Federation (USEF). The award is presented to international-level non-Olympic athletes.
Para-equestrian driver Diane Kastama enjoyed an outstanding season in 2014, which saw her top Advanced CDE competition and earn a World Championship Bronze medal. Following a car accident in 1991, Kastama was paralyzed, but a year later she was back in the saddle, and by 1994 she had taken up driving. After 20 years in the sport, the Grade I driver experienced a banner year as she won the Single Horse divisions at the Arizona CDE and the Vineyard Classic CDE in preparation for the 2014 FEI Para-Equestrian Driving Championships for Singles. At the championships in Sandringham, England, Kastama delivered a clutch performance in the cones, producing one of only four clears to earn a third-place finish in the phase and secure a Team Bronze for the United States. Additionally, Kastama continued to work to advance the sport of para-driving and level the playing field for competitors in her role as Vice President of the United States Driving for the Disabled and working as a member of the USEF Para-Equestrian Technical Committee, while working with the USEF and American Driving Society on rules and procedures.
This is the first time Kastama has been awarded the Becky Grand Hart Trophy.