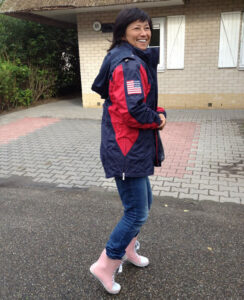 Tuesday our entourage left the de Ronde's for Breda with 3 horse vans,13 horses, 11 carriages, an army of people and Pepper of course. Both Koos and his brother Peter are showing at Breda as it is also the Dutch national 4 in hand championships. It is an hour drive to the show. Marie with her boundless energy drove one of horse vans there, set up camp, prepared coffee & lunch for the crowd in record time & still managed to get home I time to pick up the kids from school !!! She arrived this morning bright and early by motorcycle.
The horses had a light drive and the team organized their equipment & met old friends & new. The organizing committee & officials are diligently caring for all the drivers and providing everything necessary, like wide access roads between parking camp & wheel chair accessible bathrooms. By dinner time all the support crew had arrived, 4 in hand driver, Josh Rector & his fiancee, show jumper Emily Bassett & equine surgeon Patty Jones joined Jody Cutler, Bill Gorham, Keady, Boots and I.
Today was the first vet check & everyone passed with flying colors. Josh did a great job jogging them & the horses all looked super in their button braids with red white & blue yarn. They will school dressage this afternoon, then attend the official course walk at 4 pm to see these giant hazards up close ! Currently everyone is taking a quick tour of the trade fair before getting down to business. The horses & drivers all seem happy & relaxed thanks to their bright attitudes, teamwork & our wonderful Dutch hosts.
Wendy Ying, DVM, CVA, CVC
5 Elements for Animals
Sarasota, Florida
540-454-1994
Skype wendyxying
http://www.5elements4animals.com