Active Program
Gayla Driving Center, LLC
An Equestrian Driving Facility located in Georgetown, KY, offers a wide variety of amenities for your therapeutic driving needs. Gayla is best known for hosting the USDFD Silent Auction during their annual event, "Gayla Bluegrass CDE", which hit their 25th anniversary in 2013. The Gayla Center is also one of two of the CAA Proficiency Testing locations in the United States. They also holds clinics, Shriner's camps for the Kids in June, Schooling shows, and driving lessons 6 says a week throughout each year. Lessons include all forms of driving including recreational, therapeutic, or competitive. The Gayla staff is here for YOU! Visitors and lessons available by appointment.
Gayla's 718 acre farm is protected in a Conservation Easement held by the North American Land Trust. This preservation of environmental beauty assures a safe haven for wildlife and a beautiful venue to ride & drive your equines for generations to come! With miles of scenic trails, active cones course, and usage of the indoor or outdoor arenas for your equine (by appointment only) feel free to contact them to learn more! Like Gayla Driving Center on Face Book.
Contact Gayla from their website, http://www.gayladrivingcenter.com
BlackHorse 4 Heroes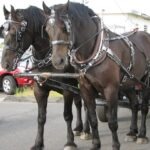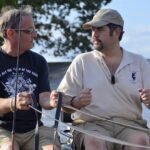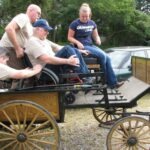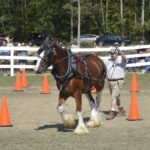 Brad Bertele is President of Blackhorse 4 Heroes Inc. Brad has developed a successful recreational equine Carriage Driving program for veterans of any disability. There is no charge to the veteran and they have found it works, especially well with PTSD. They plan on having 3 turnouts by this summer with 9 veterans competing in CDEs and marketing veterans and the sport of carriage driving. See a short video of the program at http://www.blackhorse4heroes.org
This program has been developed and is being staffed by veterans.They are located in Bethany, CT and contact information can be found on their web site. Donations are welcome. Blackhorse 4 Heroes is a 501c3 non profit. Brad Bertele has recently received a commendation for his efforts from the Veterans Administration.
Equine Journeys
Equine Journeys, in Bridgton, Maine, is a PATH certified Therapeutic riding and driving center entering its seventh year serving clients. In addition to Therapeutic riding/driving, we offer gardening, tractor club, wood scooting, and sleighing. We serve children and adults with a variety of needs on a working hay farm overlooking Long Lake in the western mountains of Maine. Most of our adult participants come from Momentum, a day activity program for developmentally delayed adults. Our driving clients learn to groom, harness, and drive in a ring and large field. They drive a metal cart, wooden cart, sleigh, and wood scoot. Lessons are structured to meet the needs and goals of each individual. Our program runs year round with sleighing our newest offering.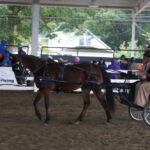 The first photo is from the 2012 Maine Equine Special Olympics where we introduced carriage driving for the first time in the country last year. We are preparing to double our participation this year as we reach out to more athletes who want to experience driving.
---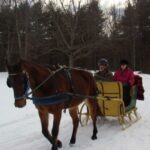 The second photo is from several weeks ago as we drive in a pung (low sleigh) on loan from our farrier, Colleen O'Connor. The Bridgton Easy Riders Snomobile club groomed the field with their track machine.
---
We are a nonprofit 501c3 and fundraise throughout the year to support our work. Our Program Director and farm owner, Marian Rabe generously supports all our work. Jean Loubier, Nancy Hohman, and Mario Pascarelli, all PATH certified instructors, provide direction.
Equine Journeys contact information can be found on their web site,
http://equinejourneysme.com