Carriages and Carts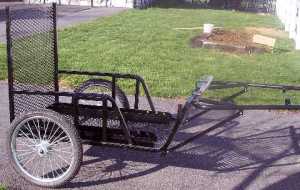 This cart is available in all sizes – Mini horse thru Draft
Options are – brake, wooden wheels, wooden shafts, removable bench seat. Cart can be cutomized to meet your needs.
The Bird-in-Hand Wheelchair Accessible Carriage is primarily manufactured for use in therapeutic driving centers and for drivers and riders who use wheelchairs. The front seat is removable so that a wheelchair occupant can either drive or ride. The rear ramp can be stored in an upright position, which allows a wheelchair occupant to face forward or sideways in the back of the carriage with an assistant. The Wheelchair Accessible Carriage offers wonderful therapy to those who have limited mobility. Driving a horse and carriage has a calming effect that is not present when traveling in motorized vehicles.
Available in sizes to fit 15 to 18 hh

---
Unbeatable quality of build and design.
Features Include:
Swivel and hoist Seats: getting in to and out is not a problem with seat and hoist adoptions
Sizes To suite: Easy ramp access for wheel chair users for both passenger and driver
Our aim: Is to make your purchase as easy as possible – Help in choosing the best horse carriage Harness model and size – to the best method of getting it delivered
Pair carriage »
This carriage is a Coyaltx that was modified by Walt Ashford of Orange, CA, to include and adapted seat and its hydraulics. In this carriage, the seat sits behind the fifth wheel, pivoting to the rear of the vehicle and then traveling down an a actuator to the grooms stand where the driver can transfer into the seat. This carriage also has an expandable axle that ranges from 125-148cm, as well as a wooden dash and
wooden fenders.
A note on brakes: The pairs carriage above has an electronic braking system operated by a switch that engages the wheels and locks them. This style of braking mechanism though adaptively speaking is easier to operate, functionally it is less desirable. Once engaged it is either in an "on" or "off" position with no way for the driver to adjust the pressure exerted on the wheels. This system is also much more susceptible to erosion, making it less reliable and requiring more maintenance.
Single carriage »
This carriage was made by Paul Milton, who no longer makes carriages. It was a prototype that was later modified by Walt Ashford of Orange, CA. He added both expandable axles that range from 125cm-138cm, and lamp brackets to make it FEI legal. This carriage's chair pivots on top of a fifth wheel, and swings to face the rear of the vehicle.The seat then travels down on an actuator to the grooms stand where the driver can then transfer into the seat. The seat has a quick release seat belt that is attached to the seat back, which is then removable. It also has a hand brake (or lever you push with elbow) next to the seat, so that the driver may have control over the brakes.
---
Single carriage »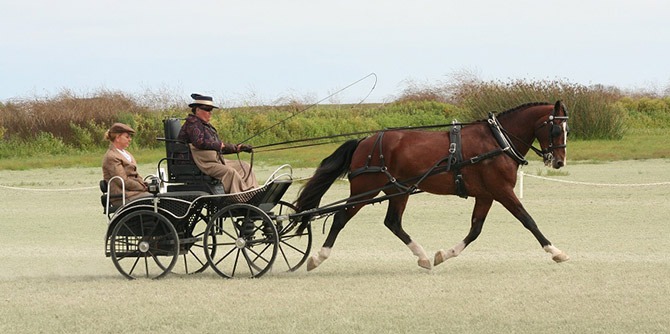 This carriage was purchased through Pieter Franken (www.dutchhorsefriend.com/carriages.html) and has an air suspension. It was modified by Walt Ashford of Orange CA, who then attached the adapted seat and its hydraulics. In this carriage the seat sits behind the fifth wheel, pivoting to the rear of the vehicle, and then traveling down an actuator to the grooms stand where the driver can transfer into the seat. This carriage also has an expandable axle that ranges from 125-138cm.
Adapted Marathon Seat »
The pictures above are close-ups of what one driver has done to modify a marathon carriage seat without actually having to structurally modify the whole carriage. The red seat is a junior size race car seat fitted with a five point harness that was purchased from Jegs, a high-performance auto supply store. These items are not in the Jegs catalogue; anyone wanting to purchase them would need to call Jegs directly. The race seat has been placed inside the carriage's marathon seat. The driver places an elevating bath chair (available at any medical supply store) on the floor of the carriage, pulls her scooter up to the bath chair and transfer onto it. Once on the bath chair, she raises the shower chair up to the level of the red race seat so that she can transfer onto it. Once seated, the bath seat is removed. This system works like stepping stones to allow a wheelchair user access to a structurally unmodified carriage. To exit, the system can be reversed, although Bev transfers from the seat to the floor of the carriage and then to the scooter.
Modified Bellcrown Carriage »
This carriage was purchased at cost from Rick and Kathleen Fallon of Running Brook Farm, designed by the maker of Bellcrown carriages of Europe, Martin Johnson, and built by the Carriage Machine Shop in Bird In Hand, PA.
The carriage pictured in various positions, was designed to spread apart and lower with the use of a hand held power drill so that someone in an electric wheelchair with a seat elevator could pull up next to it and transfer in. The seat is a modified wheelchair seat that was placed on a track so that it could be slide into all positions, not only for transfers, but also so it can be locked in and driven from left, right, or center. This way the carriage can be driven from whatever position suites the needs of the driver. There is also a seat that can be attached next to chair so that an able-bodied driver may sit up front.
The left hand side of the chair has an adapted arm rest that doubles for a brake when pressed with the use on an elbow. There is also a brake on the floor of the grooms stand in the rear of the vehicle for the able-bodied driver's use in case of emergency.
When in the upright position there is a safety bolt that locks the carriage to keep it from accidentally spreading. Though not show there is also a roll bar attachment that can be attached after the driver is in place. This carriage is a bit heavier than most due to its modifications, weighing in at about 500lbs. It also is a complete cut under fifth wheel with disc brakes.
Bennington Carriages »
Bennington Carriages in the UK manufactures four models with wheelchair access or for semi-ambulent drivers. There are two single carriage models, the Beeby and Superstar. These two are similar but the Beeby is a scaled down Superstar. The four wheel models are the Challenger and the Wagonette. All four use ramps for wheelchair access. The ramps slide under the chassis while driving. The Wagonette is built higher and uses a pneumatic system to lower the wagon to ramp height. These carriages have foot operated brakes. The four wheel models have front disc brakes and rear wheel steering. All models are designed
for pleasure driving.
Modified Kutzman Fox Sport II »
Paul Roberti drives a modified Kutzman Fox Sport II marathon carriage made by the Kutzmann Company in Poland ( carriage.company@gmail.com ) and purchased through Shelley Rekow of Pleasure Thyme Carriages ( www.pleasurethymecarriages.com ). Using Skype, Paul was able to discuss the limitations of his body with Marcief Kutzmann who designed the carriage. A modified seat replaced the original with sides and straps and can be swivelled foor ease of transfer. Paul had an aluminum ramp built so he can place himself at carriage seat height for transfer to the carriage seat.
Pacific Dartmoor Carriage »
Stephanie Putnam drives a Pacific Dartmoor carriage, pirchased through Rif (Arnold) Riffel at the Carriage Barn ( www.thecarriagebarn.com ) in Camarillo, California. Rif did all the modifications to fit the adaptive seat and platform for the seat. The seat can be removed and replaced by the original seat.The seat can be positioned right, left, or center. The adaptive seat was purchased from Aspen Seating/Riding Designs ( www.aspenseating.com ). The seat, also called a Hockey Shell, accomodates a foam cushion. Contact is Joe Biaganeck. This seat is also used in other para sports such as downhill skiing and sailing. The harness, also from Aspen Seating, consists of a wide waist belt and wheelchair shoulder harness. The shoulder harness is attached to a roll bar, the roll bar added by a friend, Ted Kilroy. A simple transfer from a ramp or raised area is used to lift Stephanie into the seat.
Driving Essentials generously offers a 5% cash back rewards program to all PATH International members.
Glinkowski Convertible
Wheelchair Accessible Carriage (for Pair Horse)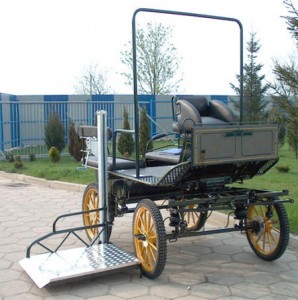 Designed for pair horses
Rear disc brakes with stainless steel discs
Brake pedal in center of floor for easy access
Pneumatic suspension virtually eliminates shock to the body
Front seats with flat or wedge sitting surfaces
Easy access to front with optional lift
Choice of pneumatic wheels or hard rubber wheels
Auxiliary grab handles available where you
want them
---
Bellcrown USA Freedom
Wheelchair Accessible Carriage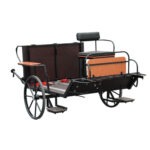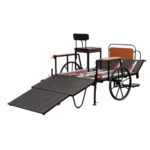 Designed to accommodate a wheelchair and/or 2 front seats
Winding axle balancing system
Fold down wheelchair ramp
Unwin Safety System's wheelchair restraints
Tubular dash
Easy access step on each side
Superide torsion suspension
Dimensions: 74″ long, 60″ ramp, 61″ overall width
Floor = 18″ off the ground
400 lbs.
---
Easy Entry »
Modified Pony Sport (for Single Cob or Horse)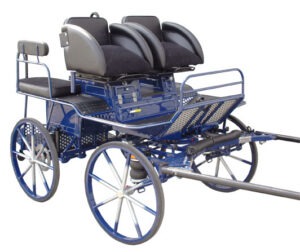 Can be designed & built for 14 to 17 hands
Rear disc brakes with stainless steel discs
Brake pedal in center of floor for easy access
Pneumatic suspension virtually eliminates shock to the body
Front seats with flat or wedge sitting surfaces
Easy access to front withSureHands® products (not included)
Easy access from rear with hinged seat, folding step and grab handle
Choice of pneumatic wheels or hard rubber wheels
Auxiliary grab handles available where you
want them
Removable back step extension
---
Bellcrown USA Shetlander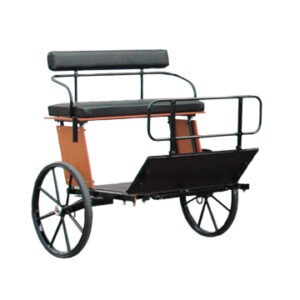 Superide torsion suspension
Double seat
Tubular dash
Whip socket
120 cm track width
Easy to dismantle
Removable, adjustable shafts
Easy to balance – moveable axle
3″ flat seat cushion
Dual end swingle tree
Choice of wheel colors
---
Superide torsion suspension
Double seat
Tubular dash
Whip socket
120 cm track width
Easy to dismantle
Removable, adjustable shafts
Easy to balance – moveable axle
3″ flat seat cushion
Dual end swingle tree
Choice of wheel colors
---
Bellcrown USA Ranger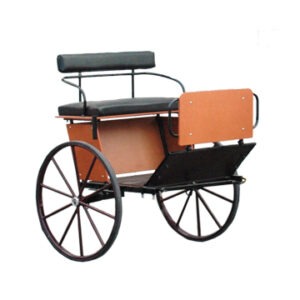 Superide torsion suspension
Double seat
Tubular dash
Whip socket
120 cm track width
Easy to dismantle
Removable, adjustable shafts
Easy to balance – moveable axle
3″ flat seat cushion
Dual end swingle tree
Choice of wheel colors