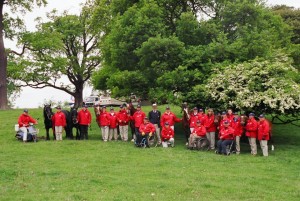 Sustainability is a very important topic. With an eye on sustainability, we can ensure that programs continue to provide the life-changing opportunities for the children and adults who seek our services for as long as they are needed. The success of an association is built upon the participation of its membership, particularly in leadership roles, vision, planning and financial sustainability.
All of us in the equine-assisted activities especially in recreational carriage driving therapies recognize the many benefits for the participants. The anecdotal stories are limited only by the number of participants. None of our competitive drivers would normally be able to walk a mile but in a carriage pulled by an exquisite stead the miles are endless. Each student is an individual and generalizations don't always work for everyone. You find what works best for each unique individual and then build on it so they can achieve their goals whether it is recreational therapy or amateur sports competition.
The Gayla Driving Center, home of the USDFD, donated a pony to a new Therapeutic riding and driving center located in Franklin, IN. This is a new PATH facility owned and run by Julie Oliver. She was so thrilled to get a seasoned pony to start her program. Stormy already had the experience of being exposed to wheelchairs, walkers, and disabilities were hypertonia may exist.
The Gayla Bluegrass CDE held another successful annual fundraiser for the USDFD program raising just under 1,000.00 dollars. This amount is slightly down from previous years but with the economy, currently many wonderful charities have been struggling. The Shriner's Hospital Camp for kids was a huge success. Eight very enthusiastic children came for 4 days of equine assistive activities and educational learning opportunities. This is an annual event that the children really look forward too.
USDFD has been working with the Universal Access Program Aide Department of Environmental Conservation Division of Lands and Forests in Albany, NY. We are helping educate them on wheelchair assessable carriages which will help them accommodate people to get into some of the historic sites in the Adirondacks which are closed to motor vehicles.
Our program is working with Central Kentucky Riding for Hope based in Lexington, KY. Our facility can offer students more opportunities to excel in their driving skills which will help them reach personal goals. There is a new Therapeutic Driving Center starting in Southern KY. This new center is located at the army base and run by the general to help the injured war veterans. We have been in constant contact helping educate them in how to get started and where to get the equipment.
The National Headquarters is working on the preparations for the FEI Para World Championships held August 30 – September 2 in Breda, Netherlands. I have been in contact with Wendy Jones, producer with NBC News in Washington D.C. Wendy is interested in filming some of our Para drivers that are in competition. She has been informed of the event schedule and hopefully will give us some great exposure especially at next year's World Championship.
The USDFD headquarters along with the Gayla Driving center staff offered a complimentary clinic for Para drivers interested in representing the USA next year in the Netherlands. Sterling Graburn, head trainer, and FEI Judge Debbie Banfield both joined forces and worked with both Pam Johnson from MO, and Boo Fitch-West from VA, to help them prepare for qualifying next year.
In November of this year this year USDFD hosted a PATH (Professional Association of Therapeutic Horsemanship International) workshop/certification clinic for therapeutic driving instructors. The attendance was the largest in the History of PATH (formally called NARHA). With both a full workshop and a full certification 25 people had to be put on the waiting list. It seems that since the joining of USDFD and PATH just a couple of years ago the interest in more Therapeutic riding centers offering driving has double.
Imagine a world where you are offering a service or product and it is no longer limited by time, space or matter. Businesses develop digital and virtual realms that do not require the physical universe as we know it. Interestingly, however, even in the virtual universe, community remains intact. The wonderful work of therapeutic driving using the horse and carriage is timeless. I am looking to step down as President of the organization. I believe that it is good to bring in new individuals to keep the organization with fresh ideas and energy.
Thank you so much for your continued support,
Debbie Banfield
President, US Driving for the Disabled, Inc