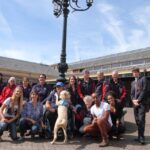 Team USA leaves Marie & Koos de Ronde's stables for Breda today. Diane Kastama, Pam Johnson and Karen Gorham have been training & getting familiar with their borrowed horses for the last week with the help of team coach, Keady Cadwell & chef d'equipe, Boots Wright.
Marie and Koos have provided wonderful horses with accomplished show records for the athletes. Koos, himself, just finished the 4 in hand world championship in Riesenbeck with a team gold and is also headed to Breda to compete in the Dutch national 4 in hand championship with his A team. Diane is driving Ruby, a 16.2 hh palomino KWPN who is part of Koos' team he loaned to the 4 in hands of team USA . Pam is driving Night, a 16 hh gray KWPN gelding who is a fast leader in Koos' indoor world cup team and Karen is driving Solo, a bay new forest pony who competes in riding and driving with the de Ronde's 11 year old daughter, Anna. Our team horses will be stabled in the same barn with Koos and Marie so they will have very little change In their show routine & will be with their stable mates so should be very relaxed & happy.
Monday was a day off for the horses, team USA athletes & crew. We were treated to a wonderful lunch in the Hague at the bookstore of Gerard Paagaman. We were greeted by a representative of the US embassy and 3 of the Paagaman children who then escorted us to the royal mews of Queen Beatrix to view her horses and carriage collection. The highlight of the tour was an up close viewing of the golden state coach and harness. At the mews, we met Dirk Van Beckhoven, a former silver medalsits himself & a part of pony team USA working with Lisa Stroud and Jennifer Matheson, in his new role as coachman. The horses are worked 5 days a week ridden and driven through the streets of the Hague, but the Queen's favorite outing is a gallop on the beach.
The vet check is on Wednesday, para dressage is Thursday, 4 in hand dressage is Friday, marathon is Saturday and cones on Sunday so more pictures and video to follow here plus you can follow us on Facebook and the blog at http://www.usdfd.org/. The driving radio show also has interviews of the team. http://www.drivingradioshow.com/.
---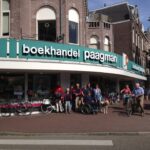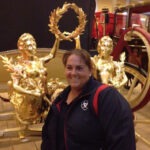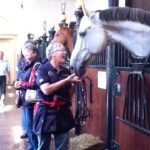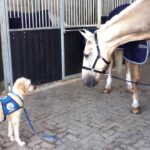 ---