Past Teams
Team USA Members of the Past: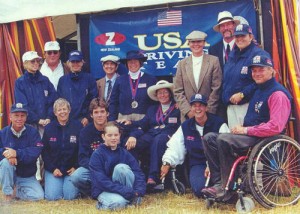 Mary Gray
Peggy Benge
Megan Benge
Carol Wilkinson
Michael Muir
Kate River
Cindy Goff
Tom Turner
Diane Kastama
Becky Merritt
Pam Johnson
Mary Woolverton
Gene Hagberg
'Karen Gorham'
Add Robert Giles
Virginia Boo Fitch
United States Driving for the Disabled holds the distinguished privilege of selecting a team to represent the United States of America in international competition. Since 1994, our teams, individuals, and even pair drivers have been wonderfully successful. As of 2006 the Fédération Equestre Internationale (FEI) sanctions and organizes these events, held every two years. The USEF's Team USA has one of the best medaling histories despite consistently using unfamiliar horses leased in the hosting counties.
USEF's Team USA World Championships
1994 – First unofficial Demonstration
Championship of Drivers with Disabilities held in Hartpury, England,
Team USA Silver: Mary Gray, Cindy Goff, Tom Turner, Rebecca Merritt
Individual Gold: Mary Gray
1998 – First official IPEC (International Para Equestrian Committees) World
Championship for Drivers with Disabilities held in Wolfsburg, Germany,
Team USA Bronze: Kate Rivers, Mary Gray, Michael Muir
Individual Bronze: Kate Rivers
2000 – IPEC WC held in Stadl Paura, Austria
Individual Gold: Kate Rivers
2002 – IPEC WC held in Greven, Germany,
Team USA Bronze: Diane Kastama, Meghan Benge, Peggy Benge
Individual Silver: Diane Kastama
2004 – IPEC WC held in Hopetoun, Scotland,
Individual Bronze – Pairs Class – Michael Muir
2006 – First FEI WC for Drivers with Disabilities, held in Hellendoorn, The Netherlands,
Individual Gold: Diane Kastama
2008 – FEI WC held in Greven, Germany,
Team USA Silver: Meghan Benge, Diane Kastama, Mary Gray
Individual Gold: Meghan Benge
Individual Bronze: Diane Kastama
2010 – Team not sent due to lack of funding
2012 – FEI WC held in Breda, The Netherlands
Team – USA Fourth
2014 – Robert Giles, Virginia Boo Fitch, Diane Kastama.
Individual, Mary Gray
Team Bronze, Robert Giles – Individual Silver
---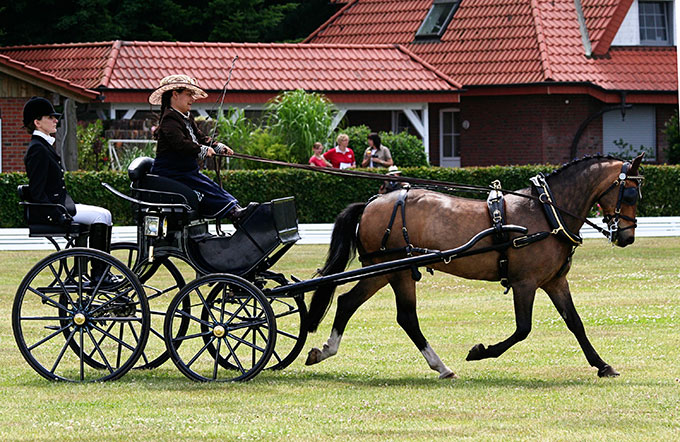 Meghan Benge at the 2008 Disabled Championships in Greven, Germany driving a Welsh Cob named Jack.