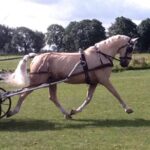 (Taken from the Outdoor Brabant website)
The FEI has allocated the FEI World Para Equestrian Driving Championships for singles 2012 to the Netherlands. The World Championship will take place during the international event Outdoor Brabant that will take place from 30 August to 2 September at the Prinsenhoeve Estate in Breda.
Outdoor Brabant has become, over the years one of the leading outdoor equestrian events with last year 45.000 visitors. At the international equestrian calendar Outdoor Brabant is known for the eventing and four in hand competitions.
But Outdoor Brabant is even more ambitious. Last year has 10 parties signed a letter of intent with their shared strategic ambitions for the future of the event. The objectives are to create an event where sport, education, government and business all come together. The letter of intent is represented by The City of Breda, the Chamber of Commerce South West Netherlands, the Dutch Equestrian Federation (KNHS), the Royal Military Academy (KMA), the international high school NHTV, Rabobank Breda, ROC West-Brabant, Breda Hippique, Top sports Brabant and VVV Breda. They all see Breda Hippique as the major public and networking event in the South West of Holland.