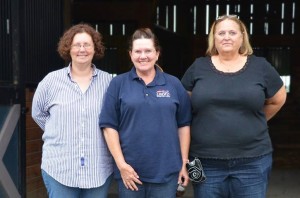 Natalie Hall, P.A.T.H. Kentucky State Representative from Independence KY, and Betty Ortlieb, USDF Judge from Foster, KY meet with Debbie to discuss the upcoming P.A.T.H. Kentucky State meeting. The P.A.T.H. International abbreviation stands for the Professional Association of Therapeutic Horsemanship. There are 165 P.A.T.H. Certified Therapeutic Instructors in the state of Kentucky with only 7 of them certified for driving. We hope to change that by offering an educational seminar at their KY state meeting schedule here at the Gayla Driving Center this fall on October 19, 2013 from 8:00 – 12:00.
According to Natalie there are escalating requests to learn more about therapeutic driving. This will not only benefit many of the children and adults with certain limitations but also assist our wounded veterans.
The Gayla Center is no stranger to P.A.T.H. activities already hosting two Workshop/Certification clinics with the second one being the largest ever with a waiting list.
Gayla believes in providing the extraordinary benefit of therapeutic driving to as many people as possible through sharing knowledge, innovation, and experience.