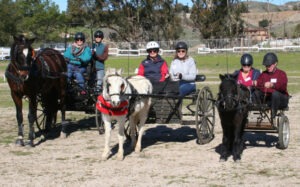 On January 23rd and 24th USDFD and the Triumph Foundation (http://www.triumph-foundation.org) introduced twenty two individuals with spinal cord injuries to the exciting sport of carriage driving at the Cutler's Oak Run Farm in Moorpark, CA. Hardy Zantke and Diane Kastama kicked off the clinic with explanations of the sport, adaptive equipment, and Q&A sessions.
The highlight for everyone attending was the opportunity to actually drive a horse, pony, or mule by themselves using one of the various types of adaptive carriages (accompanied by an experienced able bodied driver equipped with a second set of reins for safety). The clinic was a huge success and opened new vistas to many individuals some of whom had limited experience with horses previously.
Thanks go to all our horse and carriage owners, volunteers, the Brass Oak Driving Society, Whip r Snappers Driving Club, and the Triumph Foundation for helping to organize and sponsor the clinic which was free to all participants.
In particular we would like to thank Diane Kastama, Hardy Zantke, Gregg and Jody Cutler, Ronda and John McPherson, Lee Worsham, Melanie Brooker, Blythe and Fianna Wilde, Sharon and Geoff Gee, Lilla and Aleks Hewitt, Katie Twohy and Johanna for making this such a memorable event!!